My India Series - 2
Sunday, January 16, 2005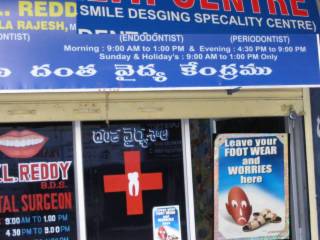 I had a quite a story connoted with this picture (super imposed in couple of places to make it reader friendly. On my dental appointment in my last month's Indian trip,I found this board he put up in front of his clinic to be quite an irony and funny too and thought as a good blog material. Someone watched me taking this snap and enquired my intention. I was quite sure he was pleased with my explanation. Next day morning I get this phone call from the Doctor, who is a good friend of our family, enquiring if I was the one who clicked. I came to know that the place, which also hosts a bunch of other Doctor clinics, was in total panic with rumors that the press is doing some investigative journalism(one TV-9 TV network name was used) and they had this evidence of me taking pictures. Luckily the misunderstandings on my intetions were dispelled and the doctor was quite pleased with my admiration of his humor.
Coming back to the picture ,glad the Doctor made sure he has a sense of humor to cover his inattention to detail:)(check the spellings in the picture). Fortunately, he didn't show this in his treatment of my teeth:).
BTW, why was there a panic in the complex..Fishy:-).
PS: Embrace yourself for more photo blog features(it started of with my previous blog) from me for a while.Thanks to my new Canon-A85, I have quite number of stories to share.