"Black"...A Bright,Colorful Tale
Saturday, February 05, 2005
Update
: Check out the
comments
of some of the stars of bollywood at the premier of "Black".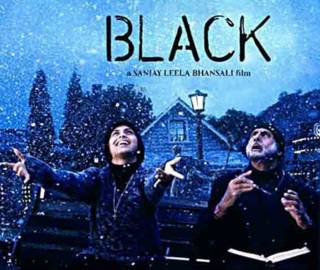 A story well told. A movie well made. The characters well played. That should explain it all. Watching this movie, I felt like "watching" a novel but in snipets. Think about a nice novel you read and a subsequent movie made based on it and it exactly portrays how you imagined, the setup ,the characters , the decor. Don't you feel thrilled! Except there is no novel here for the movie to be based on. This movie is all about the director's imagination and passion. I understand a story line like this cannot be captured in such a short time. This movie would have made an excellent novel to read and works as a nice advertisement for it. It left me wanting more. Now I have this sudden urge to read novels:).
Black is a movie about a blind and deaf girl's journey to womanhood as she tries hard to overcome her physical limitations and fulfill her dream about making herself independent with the help of a special teacher. Hopefully I have summed it up right, if not, go on..judge me. I was anyway bad with summation theories in school.
Okie I digress. Contrary to the title, the movie is positive, full of energy ,elevating and for a story plot which has all the elements of sensitiveness and despondence, it turns out to be quite fast paced and gripping keeping the audience attention. Some how I felt Sanjay Leela Bansali's(Khamoshi, H2DS, Devdas) would have really loved some extra movie time to picturize all the emotions he has conjured up his mind. But he has done a commendable job in capturing the essence of his imagination in little more than 2 hours. Every filmmaker has his own pet project( read close to heart) up his mind that he always wishes to make one day. I feel this movie is one of those as evident from the fact he is both the director and producer of this movie.
The young Rani Mukherjee , portrayed by a
Ayesha Kapur
, is the star of the movie in my opinion. For a 10-year old with no acting background, she is just brillaint, so natural and puts generations of so called bollywood actors/actresses to shame with her sublime performance(which provides an excellent evidence to my earlier post, you thought you could avoid not reading it! *a villianish smirk*). AB and Rani gives the performances of their careers till date. This is a movie where the performances of the lead actors, the cinematography (by Ravi Chandran) , and ofcourse SLB's direction (in my top 5 list already) will be remembered for a longtime.
If I were to make any changes, I would have preferred a much slower pace and more time on her experiences coping and learning her disability as well as AB's medical condition.Guess I propably would have ended up turning it into an art movie spurning away the audience. But as I said this would make the movie so much longer and darker the whole concept of entertaining the main-stream audience is weakened.
This is a movie which will give your routine hindi movie expectations a shot in the arm. Is this the new face of bollywood!!
Propably not judging from the trailer of the upcoming Akshay Kumar-Kareena starrer "Bewafaa" that was played during the interval. Its a death trap.